​ABOUT HONOR FLIGHT
Honor Flight, Inc. and affiliated hubs in the national Honor Flight Network are private, not-for-profit organizations created solely to honor America's Veterans for their many sacrifices.
Honor Flight first flew in May 2005 with six small planes flying twelve WWII veterans, departing from Springfield, Ohio. In 2006, with a rapidly expanding waiting list, the program transitioned to commercial airline carriers to accommodate more veterans. That same year Honor Flight partnered with Honor Air in Hendersonville, North Carolina and Hero Flight in Provo, Utah to establish the national "Honor Flight Network" which has expanded aggressively to include cities across the nation. By 2007 official Network hubs had been established in 32 cities, to localize community commitment, operational planning, and fund-raising.
Today, there are 140 regional hubs in the United States. There are also several thousand veterans on a national registry waiting up to one year to secure a Honor Flight in their area. Every day weare losing several hundred WWII and Korean Veterans. Our sense of urgency is very real!
By the numbers
Veterans Flown 2018
21,659
WWII - 11,644
Korean - 8,337
Vietnam - 1,539
Other - 139
Guardians Flown 2018
18,463
Total Veterans flown since inception
223,584
Total Guardians flown since inception
142,423
Goal for 2019
20,000 WWII, Korea, Vietnam and any Terminally Ill Vet!
Current Honor Flight Hubs
140 Hubs currently serving 43 states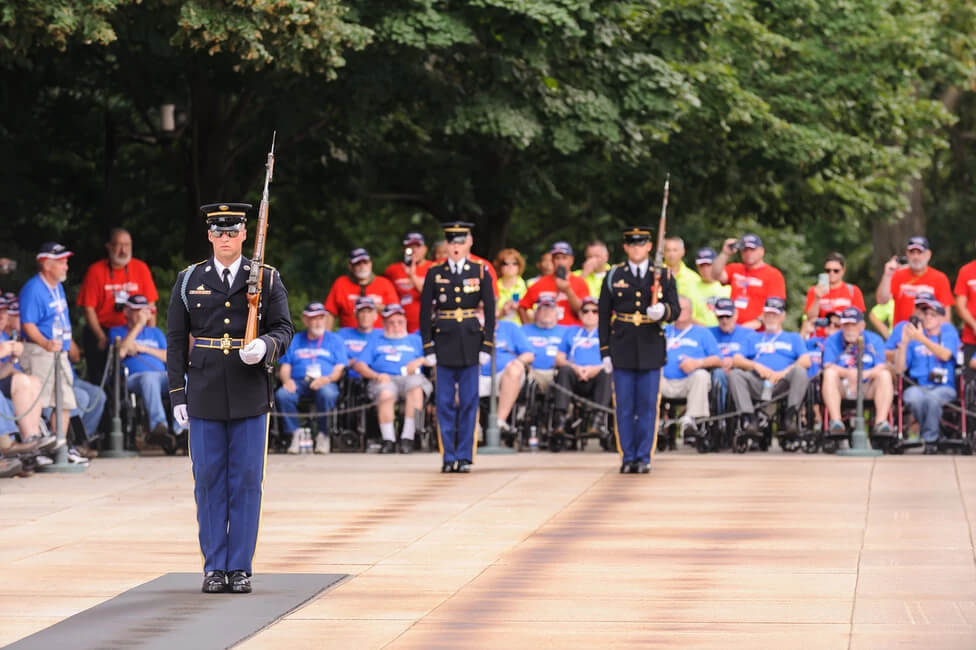 Honor Flight of the Ozarks
2,166 Veterans Flown Since Inception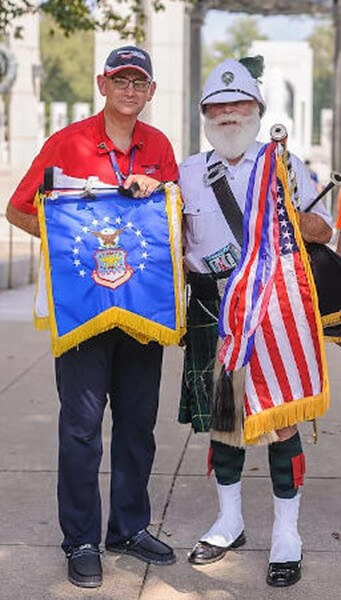 Honoring Our Veterans
Because of generous donors like you, our honored and deserving Veterans travel absolutely FREE!
In December 2013, Honor Flight of the Ozarks became the 133rd regional hub in the national Honor Flight Network. Our board members and volunteers are honored and committed to providing flights to Washington D.C. for thousands of our deserving Veterans in Southwest Missouri.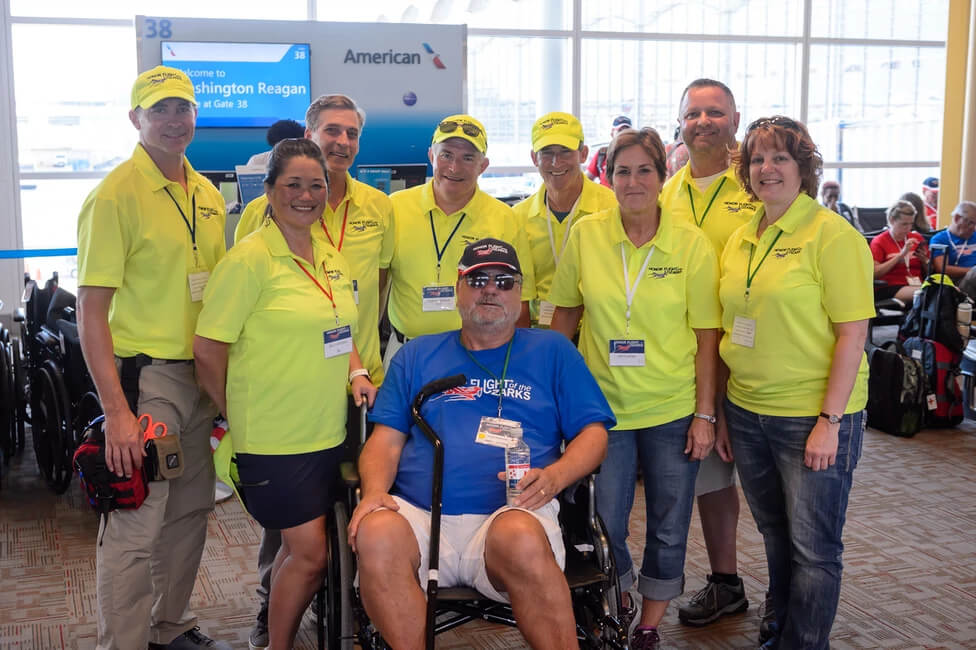 HOW CAN YOU HELP OUR VETERANS?
Our Honor Flight would not be possible without the financial support from private and corporate donors and sponsors. We are also seeking to broaden our base of fund raising programs throughout Southwest Missouri with Veteran organizations such as VFW and American Legion, business clubs such as Rotary and Kiwanis. We will continue to partner with all church denominations and Boy and Girl Scouts, and especially enjoy the enthusiastic support of our schools and students who benefit so much from the personal involvement with our Veterans through our Speakers Bureau. Veterans fill the gaps in American History and Social Studies curriculum as they continue the legacy of the wonderful stories which began with our founding fathers to our current military men and women. Our students love our Veterans!
Honor Flight of the Ozarks is a non-profit organization as a 501 (c) (3). All donations are deductible to the extent determined by law.
Our goal is to honor and recognize the sacrifices our veterans made so that we may all continue to enjoy or freedoms and way of life. Our small token of our appreciation for them is to give them a memorable trip of a lifetime to visit their Memorial in Washington D.C. in a VIP manner that befits the heroic status they occupy in the hearts of all Americans.
Your generous support allows us to accomplish our goal of honoring our Veterans!
HFO Leadership Team
Honor Flight of the Ozarks is a member of the Honor Flight Network
Board of Directors
Chris Stark – Co-Founder, Director & Board President, Attorney, Christopher Stark Law Office
Steve Bach - Director & Board Vice President, President and CEO, Bach Medical Supply
Douglas Evans – Co-Founder, Director, Board Secretary & Treasurer Attorney, Evans and Green LLP
Walt Cameron – Co-Founder & Director, President, American Financial Educators
Bill Cox - Director, Scramblers Diner
Hayden Harrison - Director, Owner, Hospitality Valuation Group
Tiffany Kuehn - Director
Chris McQuay – Director, President, American Structural Inc.
Ned Reynolds - Director, Retired, KY3 TV
David T. Snider – Director, Police Officer, Springfield PD, US Army Veteran
David Thater - Director, Retired, Central Bank of the Ozarks
​ Mike Totten – Director, Municipal Sales, Harry Cooper Supply Co.
Advisory Board
Gary Ellison - Media Coordinator
WELCOME HEROES
Richard A. "Dick" Boyce, Commander USN Retired
Written by a retired Naval officer with 32 years service in the submarine community. Cdr. Boyce's daughter, Dee, is a guardian with Honor Flight South Florida. She asked him to write a poem for a veteran whom she accompanied on her first HF to DC.
Since that time the poem has received wide distribution and numerous accolades from persons such as senator Bob Dole and both presidents Bush. It has been published in "Leatherneck" magazine and Cdr. Boyce has received numerous positive comments from Veterans from each service and throughout the US. Cdr. Boyce's greatest moment was when a tearful Vet told him he had waited all of his life to hear what the poem says.
Welcome to your Memorial
It represents history that you made,
It represents the freedom we enjoy,
And the price you and the fallen paid.
You have no battles to win today,
No flags you need to raise,
But do believe that you are our heroes
And accept your country's praise.
We appreciate your sacrifices,
In the many battles that you won.
Your country speaks through this memorial
It is saying, "Well Done, young man, Well Done
Office
Lora Plemmons - Administrative Assistant
Volunteer Leads
Mike Totten - Flight Coordinator
Hayden Harrison - Assistant Flight Coordinator / Director of Flight Operations
David Snider - Volunteer Coordinator
Holly Anthony - Hub Trainer
MISSOURI VETERANS RECOGNITION PROGRAM
Veterans of World War II, Korea and Vietnam who meet eligibility requirements are entitled to a medallion, medal and certificate. Any spouse or eldest living survivor of a veteran who meets the eligibility requirements but died prior to having made application, is entitled to a medallion, medal and certificate.
The program is administered through the Missouri National Guard at no cost.
Recognition Application