Next Honor Flight
5:00 AM May 13, 2020

Welcome to Honor Flight of the Ozarks
We honor you, our Veterans, with your own Honor Flight. Because of your sacrifice, we continue to enjoy our freedoms. We will fly you to Washington D.C. to view YOUR Memorial at no cost!
We give flight priority to WWII, Korean, Vietnam and terminally ill veterans from any era. We require a Guardian to accompany each Veteran on every flight. They provide the assistance needed by each Veteran to ensure a safe and rewarding experience.
Learn More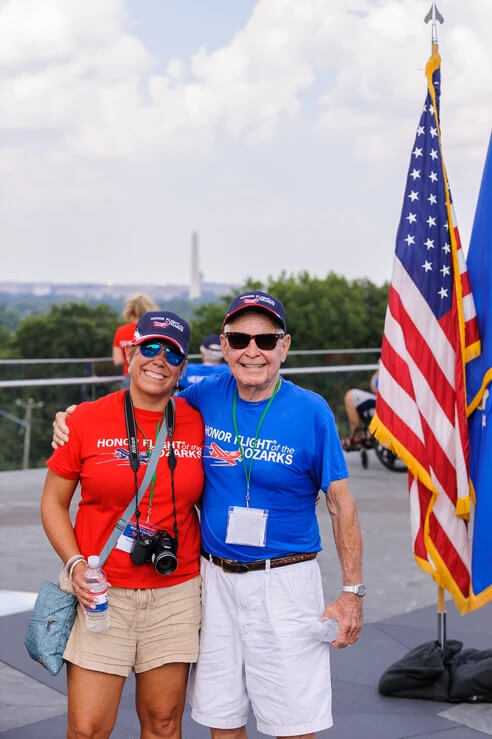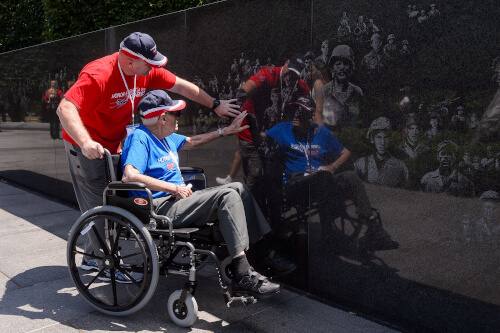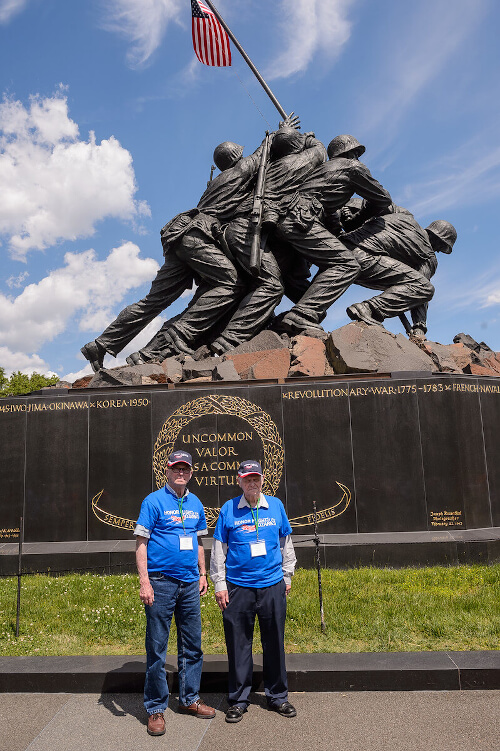 Do you want to help Honor Flight?
Don't have time to volunteer nor the funds to help the way you would like too?
One of the greatest ways you can help Honor Flight is to let these local Heroes know about our program and that it costs the veteran nothing! The price for these trips has already been paid for by alot of blood.
Qualifications are veterans of WWII, Korea, Vietnam. Veteran DID NOT HAVE TO SERVE IN COUNTRY TO QUALIFY. If they served during the campaign periods, regardless of where they where stationed, They qualify!
Did you also know that if you know a veteran of any other campaign after Vietnam that is terminally I'll, they also qualify? Please make note of our phone number, email, and address so you can pass it along to the veteran.
The best part about this is the friends you will make. Most veterans are humbled when you tell them about Honor Flight. So GREET THESE HEROS AND TELL THEM ABOUT HONOR FLIGHT!
As always, you can contact me thru messenger with questions or simply a phone number of a vet that wishes to be contacted. Please share this post, TELL EVERYONE. WE WANT TO GIVE THESE VETERANS A TRIP OF A LIFETIME.
Remember a visit, a handshake is free, dont take much time and you will make a new friend. Heck, in the amount of time that it took you to read all this, you could have already informed a hero.
- Mike Totten, Flight Coordinator
Honor Flight of the Ozarks
Midwest Family Radio Radiothon
March 6, 2020
Honor Flight of the Ozarks and Midwest Family Radio will team up for our second radiothon event. Keep checking back for more details.
Our Greatest Generations Gala
March 28, 2020
Save The Date! Mark you calendars! Plan now to attend!
This annual event has proven to be a very enjoyable evening celebrating our Veteran heroes and our mission to send them to Washington, DC at no cost to themselves.
This is a "Don't Miss" event!
First Honor Flight of 2020
May 13, 2020
Our 17th mission is planned, booked, and confirmed. Watch this website for more information as becomes available, or contact our office with specific questions.
Other 2020 Flight Dates
August 25, 2020
October 28, 2020
See the Details